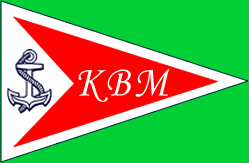 "Cruising Sailing School"

Aim: To coach Skippers for Cruising Sailing in Internal and Offshore Waters.
Vision: Maritime culture should be "a must" for everybody's literacy in Lithuania.
Mission:: Unify people into sailing community.
It's the only one Cruising sailing school in Lithuania, that has printed "Cruising Sailing Text Book".
It is a first private Cruising sailing school in independant Lithuania, established in October 2005. Till 23rd of April 2022, 1'551 trainee has passed theory courses, and 660 trainees has fulfilled offshore sailing practice (numbers are counted from 2007 till 26 of June 2021). Till 8th of April 2022, 223 trainees has passed VHF SRC courses. 54 trainees already participated in lecture "Survival at Sea", mutualy held with Lithuanian Maritime Academy (SOLAS trainig according to IMO STCW 75 convention, counting from January 2011 till 2017-11-12). It's the only one Countrywide network-school that have affiliations in Vilnius and Klaipėda. Trainees may acquire same level of theoretical and practical experience in sailing in both cities. All teachers are Certified to teach according to unified methodology of the School™, trained according to SOLAS and GMDSS courses.
Theory course (winter): 16 lessons during 7 Saturdays. 8 hours per Saturday each student is forced to spent in the class. Three films and 1212 slides (29 Mb) are looking for attention of trainees. Teaching process has been held according to the standard training program of Yachting Union of Lithuania: Boat construction, Sail trimming, Rigging, Rope work, Navigation, Practical navigation cases, Piloting, European Code of Internal Waterways and International Rules of Rode, Signaling, Meteorology, Radio, Ethics and Moral, First aid and Salvage, Traditions and the Law of the Sea.
Practical course (summer): There are two partners for practical training program during summer season. Special program, certified by Yachting Union of Lithuania laying in the base of coaching. Registration for Practical Course might be executed via "Pleasure Sailing School".



Nothing really matters but wind !
Main information about the School
2022-04-23. Next Sailing Courses in Vilnius and Klaipeda - from 8th of October 2022.
---