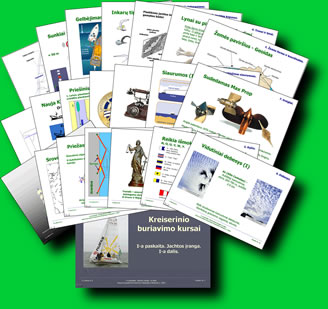 "Pleasure Sailing School"
Course "Inland Watters and Coastal Skipper"
This course aims to train Inland and Coastal Skippers. During winter 2006-2007 courses consist from 16 lessons during 7 Saturdays, 8 hours each. Three films and 1212 slides (29 Mb) are ready to demonstrate. Teaching has been held according to the standard training program of Yachting Union of Lithuania: Construction of the sailing boat, Sail trimming, Rigging, Rope work, Navigation, Practical topics of navigation, Piloting, European Code of Internal Waterways and International Rules of Rode, Signaling, Meteorology, Radio, Ethics and Moral, First aid and Salvage, Traditions and the Law of the Sea.
Students has to read approximately 400 pages of literature, to pass 6 mini exams, prepare the homework and make a presentations of their knowledge during the class. They improve analytical skills, fathom out the principles of deduction of variable informations in order to make a right decision under way. First time in Lithuania students are supplied with interactive e-learning tool of Shipping, Boyage, Sounds, Lights and Shapes.
The survey, that has been held after the course in Spring 2006 discovered, that participants found lessons as a useful tool to improve their object knowledge. All students has admitted, that systematic analysis of diversity of themes might be useful in practical life, not only in yachting.
As a testimonial of Competence, applicants for Inland Watters Skipper qualification acquire the Certificate of "Competent Crew", that testify acquaintance with Yachting object. Such a Certificate is useful within Inland Watters Skipper pre-exam period.